A few days ago I went to my garden for our morning ritual, ritual that consists of heading there first thing in the morning to see what new bloom was birthed, taking some pictures and embracing the love from the flower garden....
As I was walking back into the house this fun idea occurred to me: To float some clematis in my birdbath! Strange idea!!!I know...but that's the thing about being in love with nature...it's okay to think out of the box! I do not have a lily pond so the idea was pretty cute and whimsical!
N'na's garden: Clematis & birdbath
I know it's not Monet's Lily pond at Giverny but I think that even him would have smiled at the sight of this birdbath...
I went as far as bringing some clematis in the house and ...
Talking of Monet this blurry picture I took this morning before the rain could make for Impressionist art don't you think?
I think that the following pictures would have definitely inspired our French Impressionist and I will show you why I am confident of that....
Cypress Gardens, South Carolina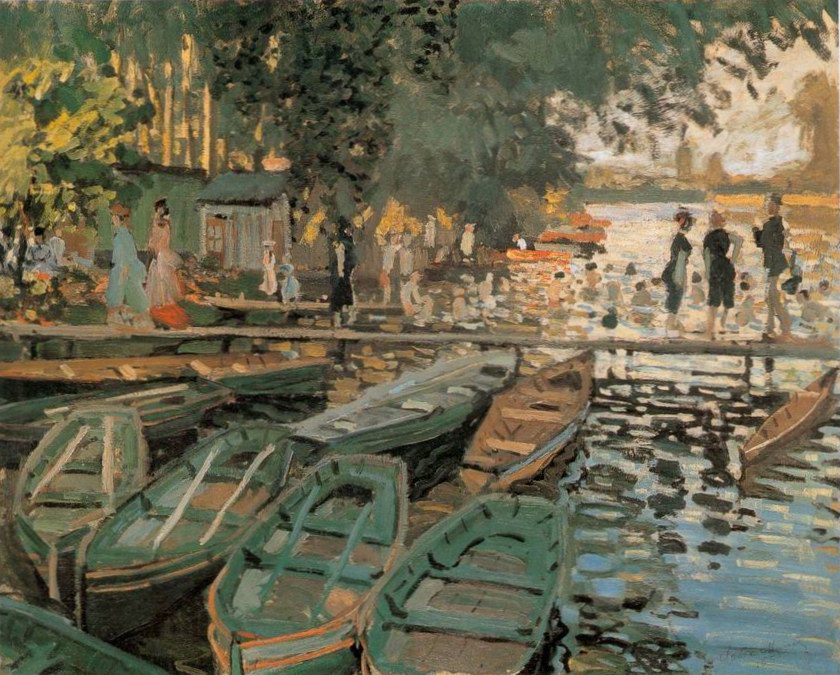 Cypress Gardens South Carolina
Cypress Gardens South Carolina
Now you see what I mean? Below each one of my photograph I found a painting somewhat similar. I can't deny it Monet is my favorite Impressionist. It's obvious that him and I share a common affection for nature. What about you?
I don't have paintings to offer you, just pictures, so here are more pictures taken this morning....

N'na's Garden: Iceberg roses & Catmint
 My neighbor's mom stopped by yesterday morning and we talked about many of the flowers she was admiring, she was curious about my Lemon balm which you can see in the picture below. Lemon balm is an herb I planted in my garden a couple of years ago! It's a perennial herb and it faithfully returns every year with more leaves that I enjoy as tea or simply as a room freshener because the scent is simply divine!
Since I do not use any chemical in my garden and stick to homemade organic fertilizers it's totally safe to consume the herbs that I plant in my flower beds!
N'na's Garden: Iceberg roses
N'na's Garden Iceberg roses

The climbing rose below bloom profusely and is just a delight to watch, it's also quite a mystery because it kind of grow wild too.....humm the many surprises a garden reserves!!!
N'na's garden: Climbing Roses
Claude Monet said " I perhaps owe having become a painter to flowers"!
I love photographing flowers and I think that I owe to flowers my interest for art as a whole!
Flowers make life so beautiful, someone said "one who plants a garden plants happiness" , I hope that in sharing those pictures with you this morning I have planted happiness in your day! These 2 geese below have been planting happiness in my days lately!
I will have to find them a name, any suggestion?
Thanks for taking this small tour in my garden! I hope you found inspiration in many ways and that you caught on the happy vibe! Nature is greatly represented in Art and Monet is a great inspiration to me! What about you? Who is your favorite artist?
N'na